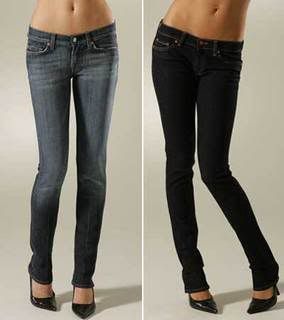 Ladies and gentlemen, I have entered the safety zone. 
My totally boring, new healthy-eating regimen actually seems to be working, and for the first time in over a year, I was able to put on my skinny jeans (and not be horrified) today!!!! Hooray!!!!  I even wore them out in public!
Now, I still have a bit to go before I lose all of my RA Freshman 15, but I have lost nine pounds of it so far over the last two months through diet and exercise, and that's nothing to sneeze at.  I guess my metabolism didn't completely kick it after all. (Metabolism, I take back all the hateful things I said about you this past year.)
Given that it's difficult for me to be as active as I was back in the day when I practiced two-hour sessions of yoga a few times a week, I may never lose 100% of what I gained during Ye Olde Winter of Slothdom and Suffering, but you know what, that is OK.  It feels really good to FINALLY feel more fit and able and get back into skinny jeans land. Plus, I won't feel so bad at my sister's wedding festivities next week, where I plan to indulge a wee bit in all the yummy, not-part-of-my-diet foods like kick-ass wedding cake, champagne, and who knows what all else.
RA: Kiss my skinny jeans-clad ass!